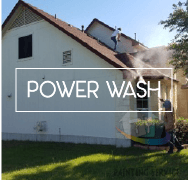 Power wash services are ideal for all type of buildings they help maintain the appearance of a building and keep the life of the paint. Do you have cobwebs, mold, algae, or dirt on the exterior of your home?
Power wash your home to make it look "NEW!"  We take pride in cleaning your home with our power wash we ensure that your home is clean and you are satisfied.
Spot priming is perfect for small repaired areas to help keep the appearance of your home sleek and clean without repairs making a difference in your walls. This jobs can be done the same day! Don't wait any longer on that small spot repair that has been bothering you! Call us today.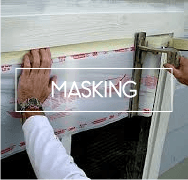 Masking is an essential process to us we make it one of our priorities to mask your home for every project small or big, we know how hard you work for your things, and we avoid the possibilities of any damage to them.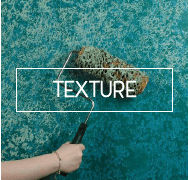 Coyt's painting service helps home owners have a style in their paint with modern styles such as faux leather, faux concrete, ombre style, Venetian plastering, Sponging, Denim faux and much more we like to stay updated with all the textures and styles that are trending.
Our drywall repair is convenient for all our customers we understand small accidents happen. We help you with small and big jobs whether it is a small drywall hole or the complete replacement of a wall we can repair prime and paint all in the same day!.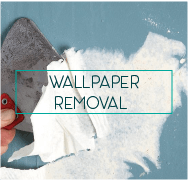 Wallpaper removal is one thing our customers know us for, wallpaper can ruin your walls and cost you unnecessary expenses. Homeowners don't get educated on the damage wallpaper leaves behind most wallpaper removal has a specific process that needs to be followed. We have to replace or texturize your drywall all over again, and this can be pricey we try our hardest to help our customers avoid that problem by carefully removing the wallpaper with techniques we have learned in the industry. Call us today for your wallpaper removal this is not a DIY as you might cause bigger damage let the professionals help you.
Popco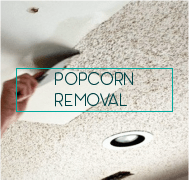 rn is outdated! Everyone wants new smooth walls, let us help you remove all the popcorn on your ceilings or walls, help retain the value of your home by removing the popcorn. Buyers have said that when they see popcorn they decrease their offer. Don't let the simple 70's style cost you a big portion of your sale!
Not selling your home? Popcorn removal can change the appearance of a home drastically.

W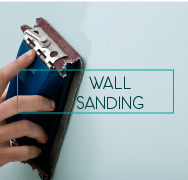 all sanding is a step we take for most of our services to help keep your walls smooth and sleek sanding away small flaws on your walls helps keep your paint job and texture look smooth and clean. When you paint over a wall with flaws without sanding it first, you emphasize the flaws when you paint them making your job look messy and unprofessional.